P2/3 Den Day 2020
13th Feb 2020
What a fun day P2/3 have had! After bringing in blankets, rugs, pillows and cushions Den Day finally arrived! The children were full of super ideas on what we should build! In fact the P3 children had written a plan the day before, detailing just what they would build and how. We decided to use ropes to hang our blankets on but the blankets dipped in the middle so we had to use our thinking skills to solve the problem. We were very creative and designed a crisscross web of rope so that the blankets had something to lean on. Next came our door! Holly brought in a huge cardboard box so we made a front door for our amazing den and as you can see it really was the finishing touch! The children came up with the name and worked very well together, sharing and taking turns to make sure everyone contributed to the final result.
After lunch we settled into our fab den to enjoy a film with some tasty snacks!
Cassie - Den Day was good because we got to build a tent. I liked our beautiful door best of all.
Archie - I liked watching the film and eating my treats.
Harry and Kyle - The ropes were good to balance the blankets.
Darci - We used teamwork to make the den.
Holly - We took turns to colour our front door.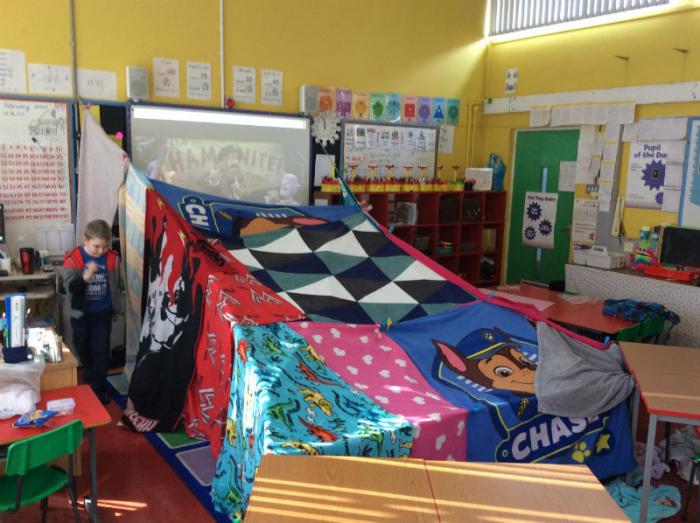 Donemana Primary School, 31 Longland Road, Donemana, Co Tyrone, BT82 0PH | Phone: (028) 7139 8633 | Email: ghay546@c2kni.net