P2/3 Anti-Bullying Week
20th Nov 2020
This week our class have been learning about what bullying is. We were pleased that lots of children didn't even know the word but realise that unkind behaviour does happen so it's important that our children recognise it, know what it's called and know the steps to follow should they feel bullied or should they see inappropriate behaviour happening towards others.
After going through our PowerPoint we decided to focus on what makes a good friend. We thought of qualities a good friend would have that a bully would not have and created posters in our bubbles. The posters were then put up in different areas of the school for other classes to see, read and remember.
Through our PATHS programme we heard about Twiggle the Turtle who had to learn not to be a bully by following strategies for when he felt cross. We all practiced 'doing turtle' so that we know what to do when we feel cross and this will help us not to turn to bullying behaviour. P2/3 enjoyed acting out the different bullying stories and came up with some great ways to help if they see this behaviour in the playground.
To finish our Anti Bullying week off we had an 'Odd Sock' day on Friday to help us remember that differences aren't always a bad thing. Even though the two socks are different they still do the same job.
Maisie created two super Anti Bullying Week posters and put them on the Library door for all to see and follow.
It's been a very busy but VERY important week.
Bullying is NOT fun.
Bullying is NOT ok.
Bullying has to be STOPPED.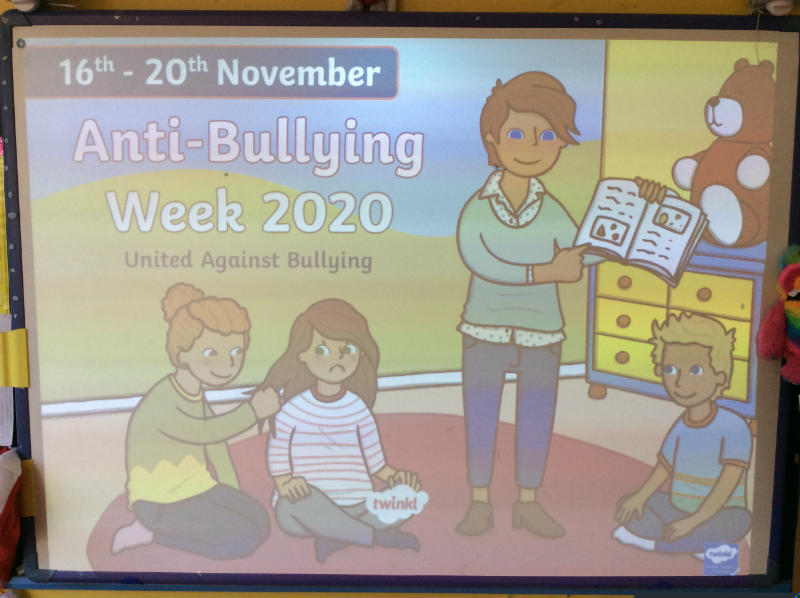 Donemana Primary School, 31 Longland Road, Donemana, Co Tyrone, BT82 0PH
Phone: (028) 7139 8633 | Email: ghay546@c2kni.net