A Christmas Gonk. A Christmas what??
24th Nov 2020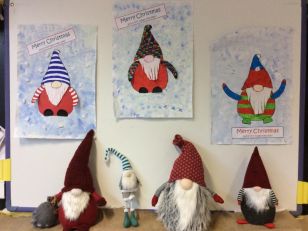 The P5/6 children have been very busy with Christmas art and have managed to make an interesting Christmas Gonk.
Alex brought in her collection of Christmas Gonks as inspiration for us and the children then produced their very own 2D art Gonk.
'A Christmas Gonk?' I hear you ask.
Some people have described them as a festive gnome, others have described them as a humorous miniature Santa. Gonks are short little fellows with long bushy beards that cover a lot of their face. With a pointed hat pulled over their eyes, all that is left to see is a sweet button nose.
When you look at the pictures, I'm sure you'll agree the children have done a fabulous job.
Well done P5/6, I'm very proud of you!
Donemana Primary School, 31 Longland Road, Donemana, Co Tyrone, BT82 0PH
Phone: (028) 7139 8633 | Email: ghay546@c2kni.net